How to Suit Up for Summer
Posted by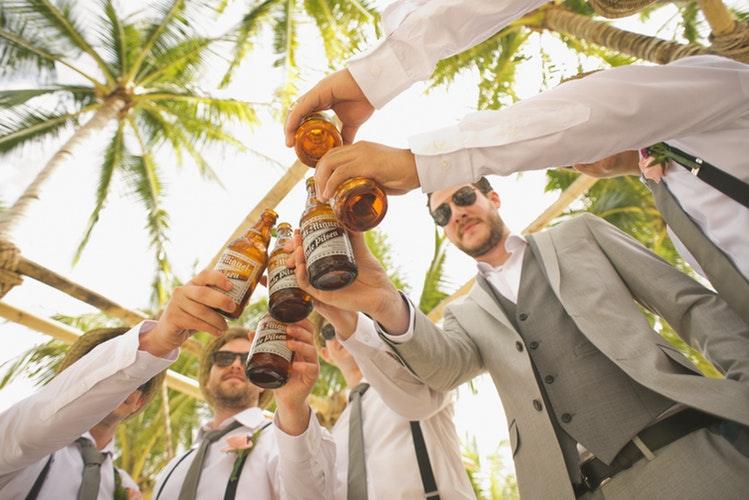 With the start of summer well and truly underway, it's time to revisit our top tips for suiting up in the sun! With events like
Royal Ascot
,
Henley Royal Regatta
and
Wimbledon Tennis Championships
in the diary it's important to get your summer suit sorted! Factoring in both style and staying cool is always going to be a challenge, but don't worry!
Frederick Thomas London
are here to help, let us guide you through our top tips for
how to suit up for summer!
Photo Credit: Pinterest
Frederick Thomas London Top Tips
Jacket
The idea of wearing a blazer in the scorching sun is never appealing. But if you get the material right then there's no need to get hot under the collar! Focus on linen and lightweight suit jackets.Linen is a classic summer suit material, the natural fabrics absorbs perspiration which allows your skin to breath and better circulate air to the body. So, we suggest the
Samuel Windsor Linen Blazer
- softly structured to keep you cool in the heat, perfect for smart and laid back summer dressing.
Photo Credit: Pinterest
Cotton is also another textbook summer material, the natural fibers allows air to circulate and move freely through the fabric to ensure airflow that helps dry out damp areas of the body. So for cotton, we suggest the
Hackett Cotton Blazer
- perfect for a simple and easy summer look.
Photo Credit: Pinterest
Finally, seersucker is another great summer material. Seersucker is a material made especially for the spring and summer months, it's lightweight, puckered cloth means its the perfect material for comfort and cool. For seersucker we recommend the
GANT Stripped Seersucker Sports Coat
- constructed in cool cotton seersucker for a super preppy summer look.
Photo Credit: Pinterest
Shirt
They're a couple of options when it comes to wearing a suit shirt this summer:Firstly, the classic long sleeved shirt for formal occasions is a must. Stick to that summer textbook material of cotton. But feel free to experiment with summer colours! Light pink, light blue, stone and white are all perfect for your summer suit. We suggest the
Hawes & Curtis Mens Cotton Slim Fit Shirt
- crafted from luxe combed cotton fabric and designed for the modern man.
Photo Credit: Pinterest
As we said before, linen is a great summer material. So don't just restrict it to just your jacket, wear a linen shirt as well! A perfect smart casual look for the summer seasons - great with or without a blazer. Here at Frederick Thomas London we suggest the
Mango Slim Fit Linen Shirt
- made from 100% linen to maintain your cool in high temperatures.
Photo Credit: Pinterest
And finally, for a super causal but cool look, opt for a white t-shirt! A simple white cotton t-shirt underneath your blazer is a great look in the summer. A white round neck t-shirt can be bought almost anywhere for a small price. Cost saving and stylish!
Photo Credit: Pinterest
Trousers
If you came here expecting shorts, then I'm afraid you'll be disappointed. Shorts are a definite no go for summer suits. Trousers are a must!It's time to revisit linen again, for the last time, we promise! Linen suit trousers to accompany your linen jacket is a super cool look, or just with a shirt for a more casual look. We suggest the
Moss Bros Slim Fit Linen Trousers
- made from linen and polyester-blend fabric for a lightweight, breathable trouser that won't crease too easily.
Photo Credit: Pinterest
Summer chinos are another great option for a smart causal suit look. Made from cotton, they are lightweight and a summer staple for men! We suggest a pair of
GANT Mens Cream Summer Chinos
- these super soft summery trousers are garment dyed for an authentic sun-worn look, available in sand, graphite, green marine, blue and red as well!
Photo Credit: Pinterest
Shoes
Your shoes can tell someone a lot about you, so makes sure they're clean and polished!Loafers are a summer shoe essential. Loafers look great with a seersucker or linen suit, perfect for casual or business attire. Stick with lighter earth-toned colours to achieve that summer feel. We suggest a pair of
Russell & Bromley Woven Slip-On Loafers
- a modern adaptation of the iconic penny loafer, expertly crafted in Italy in tan leather. Set off this pair with summertime tailoring for a super suave finish.
Photo Credit: Pinterest
The boat shoe is a another great summer classic, tailored made for events such as
Henley Royal Regatta
. But also great for achieving a causal suit look. The light material will keep your feet cool, top tip: wear no show socks for super fresh feet! We suggest a pair of
Samuel Windsor Classic Boat Shoes
- designed with comfort in mind, wear alongside chinos for a perfect summery look this season.
Photo Credit: Pinterest
Finally, for a more formal summer shoe, opt for the classic oxford brogue, but in suede! The suede will help keep your feet cool and breathable. Opt for brown suede every time though, it goes with almost all summer menswear. We recommend a pair of
Kurt Geiger Brogues In Camel Suede
- made from soft touch suede with textured thread for a seasonal take on the classic brogue.
Photo Credit: Pinterest
Accessories
Last but not least, our Frederick Thomas London favorites,
accessories
!The panama hat is a summer classic, keep yourself cool underneath the scorching sun. Protect your skin from the sun while also looking super suave! We recommend the
Hackett Large Brim Panama Hat
- from the Henley Royal Regatta collection.
Photo Credit: Pinterest
Why not swap your tie for a
pocket square
instead?! A pocket square can work the same wonders that a
tie
can! It can smarten up your suit or blazer instantaneously. Perfect for those warmer days, so there's really no need to get hot under the collar! Check out our blog on
how and why you should be wearing a pocket square
for more top tips. We suggest the
Frederick Thomas London Yellow Linen Pocket Square
for a perfect summer tailoring.
Photo Credit: Pinterest
Similarly, a lapel pin is a great summer accessory. No extra bulk added to your suit and they are super easy to wear. There's no need for complicated tying of ties or folding of pocket squares. Simply place through your left lapel, clip in and you're done! Check out our blog on
why you should be wearing a lapel pin
for more advice! We recommend the
Frederick Thomas London Blush Pink Floral Lapel Pin
- because
florals
are a must for the summer months!
So there you, our top tips on how to suit up for the summer. We hope they've helped!
---
Find your perfect summer suit accessories here: https://www.frederickthomas.co.uk/ Shop Now!
From all of us at Frederick Thomas London, thank you for reading and see you next week.
Written by Emily Watson