How and why you should wear a pocket square
Posted by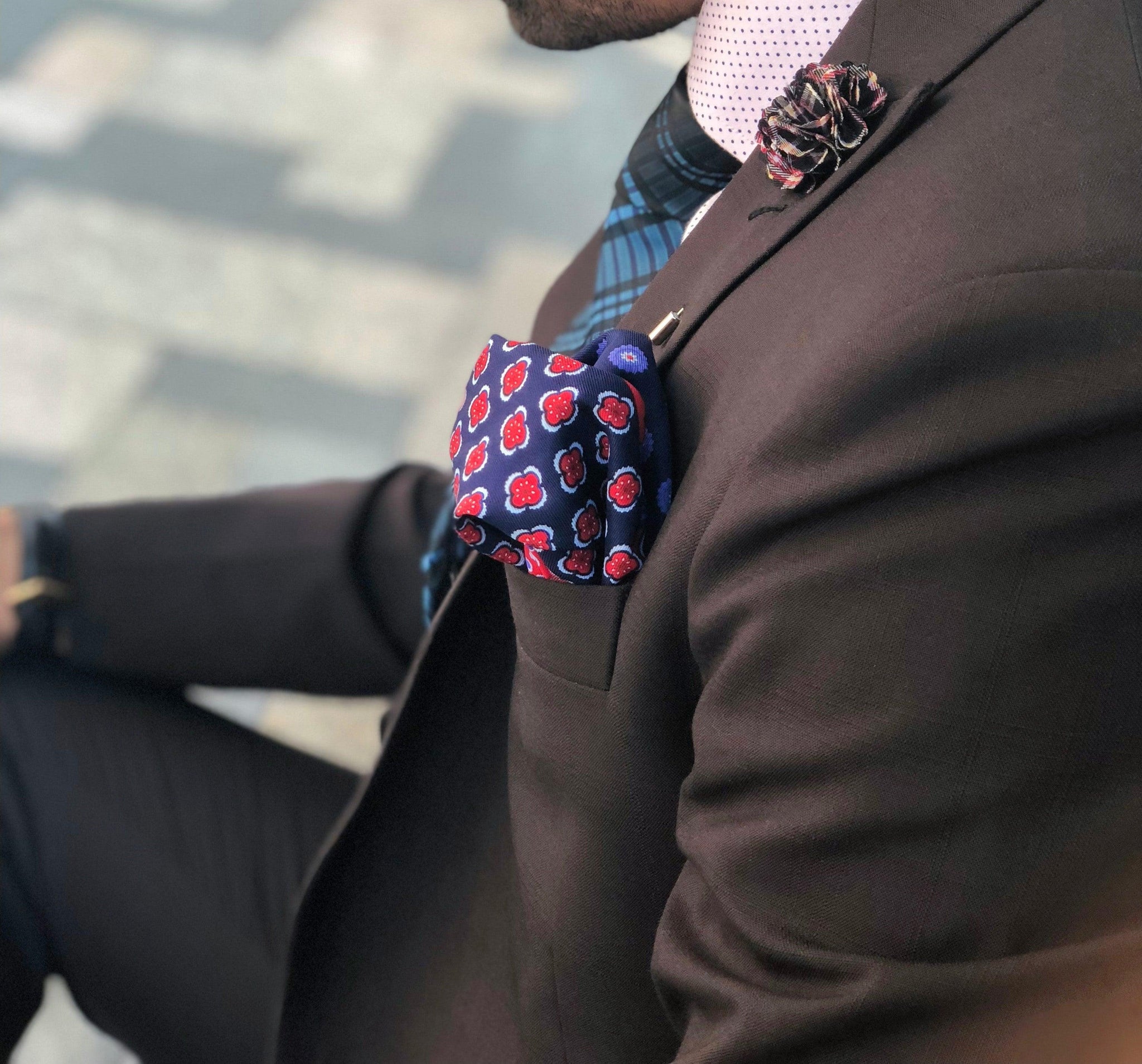 The pocket square is becoming an increasingly popular suit accessory. And with good reason! A
pocket square
is a unique and beautiful piece of clothing which can add extra layers of complexity to your attire. So, why not welcome this striking yet subtle accessory into your wardrobe. Let
Fredrick Thomas London
guide you through
how and why you should wear a pocket square!
Photo Credit: Pinterest
Why you should wear a pocket square
Perfect for when you don't want to wear a tie
A pocket square can work the same wonders that a
tie
can! It can smarten up your suit or blazer instantaneously. Perfect for those warmer days, so there's really no need to get hot under the collar! Additionally, this look isn't a classic suit combo, so you'll be sure to stand out from the crowd (for all the right reasons of course!).
Perfect for formal occasions
The perfect way to completely transform your look. A fitted suit, smart
tie
and pair of
cufflinks
will always do the trick at a formal do. But who wants to blend into the background?! Go that extra mile with a pocket square and bring 'formal wear' to new heights!
Perfect for special occasions
It's not an everyday suit accessory, which makes it that extra bit special. So aviod the boring suit and tie combo, and introduce a pocket square into the mix, to add that extra bit of uniqueness. So whether it's for that special
first date
, your best friends
wedding
or your office
awards party
, the pocket square will ensure you're looking as good as you feel!
How you should wear your pocket square
Here are some top tips on how to wear and fold your pocket square, for all occasions!
Everyday pocket square
Photo Credit: Pinterest
Obviously there are no rules when it comes how you should wear your pocket square on everyday basis. Which is great, that means it's time to experiment! Get adventurous with the
four peaks
, embrace romance with the
rose fold
or keep it simple with the
single peak
!
Formal pocket square
Photo Credit: Pinterest
Rule of thumb - match your fold to the occasion! For a formal setting, that requires a full on suit and tie, stick the classic
flat fold
or
two peaks fold
. While for a more causal formal setting, such as a dinner party where you can ditch the tie, opt for the
puff
or
reverse puff fold
. Make this your main accessory and embrace the flamboyant folds!
Wedding pocket square
Floral
and
bright pocket squares
are a must at weddings. It's a special day so it's important to embrace your most unique accessories. Equally as important is the type of fold you use! The
puff hold
, the
stair fold
and the
reverse puff
are all perfect for your wedding attire - no boring flat folds today!
Black tie pocket square
Photo Credit: Pinterest
Tuxedo pocket square rules are pretty simple. The general rule of thumb is, a white pocket square in either a
presidential pocket square fold
or
conservative puff hold.
Easy! However, if your black tie event isn't a strict one, then add a pop of colour to your pocket square! It's more than acceptable at most events to stray from the textbook black and white look. A coloured pocket square is especially prominent and striking when wearing a colorful and adventurous tuxedo jacket - differentiate yourself!
Matching your tie and pocket square
First things first, never match your tie and pocket square directly with each other! It's a crime against fashion, showing little effort and imagination. Instead, choose a secondary colour from your shirt or tie as the primary colour for your pocket square. Read our blog on
how to match your shirt with your tie
for more top tips which can be used when matching your pocket square as well! Finally, don't overdo the patterns! Ensure at least some of your attire is exploiting flat colours, in order to accentuate the colours in your pocket square! Unless you're
dressing with sprezzatura
- then
clash
away!
So there we go, our top tips on how and why you should be supporting the pocket square!
---
Find your perfect pocket square here: https://www.frederickthomas.co.uk/ Shop Now!
From all of us at Frederick Thomas London, thank you for reading and see you next week.
Written by Emily Watson