Wedding Season Tips: 8 Ways to Turn Your Work Suit into a Wedding Suit
Posted by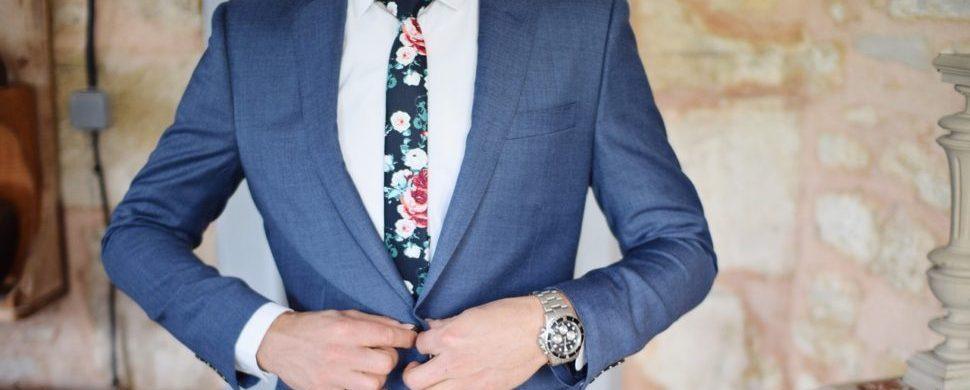 Maybe you've been hitting the gym a lot lately, or trying to slim down a bit before the summer finally kicks in – but there comes a time in every man's life when he goes to put on his best suit (you know, the one for weddings and very special occasions) and it doesn't fit. Maybe it's a little too snug around the middle or maybe it hangs off you like that time when you pinched your Dad's suit at 16. Either way, there's nothing worse than a poorly fitting suit, especially a wedding suit.
Unless you want to go and cough up for another decent suit at short notice, you're not left with many options. Your everyday work suit still fits nicely, but you can't really wear it to a wedding, can you? Well...with a bit of accessorising, a subtle shift of a tie knot and some quick tips, yes you can. And we'd be willing to bet that nobody will even notice:
1. Buy a new shirt
A shirt can make a big difference to a suit. For a wedding suit, the fancier the better. If you can go for something a bit out of the ordinary – specifically, something you'd never wear to work – then it'll look a lot less like you're on the way to the office. A twill shirt (one with fine ridges) can add a touch of class to a work suit – and if it's a double cuff, even more so.
2.Off the cuff changes
Cufflinks are a great way to take a suit from perfect for the office to perfect for the church. Although you may already wear cufflinks to work (if you do, fair play) nowadays, they're usually saved for formal occasions like weddings. Not only are they a great way of shooting the right amount of cuff, they're also perfect for a little flash of class, but in a very understated way – especially if you wear cufflinks a bit like these.
3. Choosing the right tie
The tie is a bit of a centrepiece when it comes to the suit, so as a focal point you want to make sure it stands out. Sometimes if you're a groomsman you get your tie picked out for you, but if it's your responsibility don't panic. In fact it's pretty easy to pick a wedding tie. Think about what ties you do have. Boring, navy work ties? Nope! We don't want that. If it's a summer wedding, why not brighten things up with a colourful floral design, or perhaps a mint green or lavender tie? If it's an autumn occasion, then tweed check ties are hugely popular. As tweed is also a timeless design you'll look smart and stylish.
4. Tying the knot
You've probably been doing the 'Four-in-the-hand' knot your entire life – the one that you learnt at school and have done, without thinking ever since. It's pretty common – and we bet that if you look around the office, almost every man will be using the same knot. So what better way to change it up for a wedding than to use a Windsor or half-Windsor knot? They're a bit bigger, but they're the perfect knot for weddings and formal occasions.
5. Go from office square to pocket square
Nobody – well, nobody we know – rocks a pocket square around the office on a day-to-day basis. We're not in Mad Men. That's why whacking a pocket square in your suit pocket – perhaps something like this navy and red paisley pocket square – can take your suit up a couple of notches. Plus, you'll look cool as hell.
6. Go from two-piece to three-piece
If you can, adding a waistcoat to your office two piece can make it almost unrecognisable. Not only will you look like a dapper gent, but – even if you haven't got a new shirt and have to wear a work one – it'll hide the majority of the shirt. Plus, if you've been hammering the takeaways over the winter for a layer of extra warmth, the waistcoat will slim you out a bit too.

7. Time to shine
Right. This is a bit of simple one – but sticking on a decent pair of shoes that you've given a good old polish can make the world of difference to your suit. While you probably let your shoes get scuffed about a bit for work, for a wedding, the higher the shine, the better.
8. Add a few final flourishes
Adding a tie clip, collar pin, dress watch or braces to an everyday outfit can make the world of difference to the impression it will give off. Experiment, throw some things together and see what works. Adding a few accessories levels up a suit and draws attention towards individual parts of the outfit, rather than the outfit as a whole,. This will help you avoid the otherwise inevitable 'Hey, isn't that the suit and tie that Mark wore to the meeting on Tuesday?' comments.
As long as you tailor these tips to the theme of the wedding, you can't go wrong! What easy or quick tips have you used to turn your work suit into a wedding suit? Share in the comments below!