The Tweed Weekend Bag: A Menswear Essential
Posted by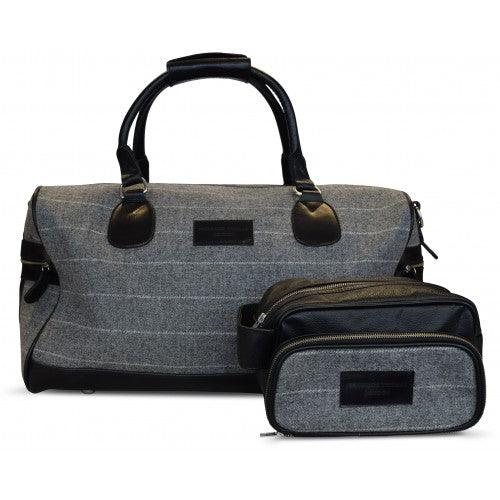 Whether you're off on a stag do, heading to the country for a long-weekend or just travelling across the country for a conference, you need a bag that matches your outfit. You need a bag that looks as good as you do. And for that, there's only one option: a tweed weekend bag.
Why the tweed weekedsnd bag is such a must-have:
If you're in the market for a new bag, there's a lot to consider.
You've got aesthetic concerns, of course.
Too often is a sharp suit or outfit ruined by a man using the same bag he used in Sixth Form or a laptop bag that came free from PC World. Don't be that guy.You want a bag that is sharp, stylish and classy. You want a bag that looks great and catches the eye. You want a bag that makes you look like The Man.And there's no better bag for that than the tweed weekend bag.It's classic British heritage. Tweed has a rich history and screams with an inherently British sense of class and togetherness.It's just looks great, to be honest. (We love tweed here at FT. Can you tell?)
You've also got practical concerns though, right?
Gone are the days of giving your luggage to the driver your
Hansom cab
and forgetting about it until it was delivered to your room.Modern luggage needs to be durable, It needs to be spacious. And it needs to be utilitarian.And guess what?A tweed weekend bag ticks all three boxes. (This is an article about tweed weekend bags, what did you expect?)As a product of Scotland, tweed is notoriously durable. It was designed for harsh climates and to withstand outdoor activities like fox-hunting, shooting and rebelling against the English.Weekend bags are also designed to be spacious and fit enough stuff to last you a whole weekend. (The clue is in the name.)And, of course, weekend bags are just right for travelling around. They fit in the luggage hold of most commercial airlines. They fit in the overhead storage on trains. And they fit in the foot-wells of most cars.Plus, a tweed weekend bag add a touch of class. It's a timeless look: men have been carrying the it since the days of
The Grand Tour.
(If you're not familiar with the long history of British Aristocracy, we don't blame you. The Grand Tour was essentially the first gap year - or gap yah, if written how they pronounce it. It was a bunch of aristocrats travelling around the world in pursuit of culture and new experiences, backed by their families money...)
Our favourite tweed weekend bag:

For a moment, we considered keeping it classic with
this hunter green tweed weekender
, but at the last minute, we changed our minds.Instead, we went for
this grey tweed weekend bag
. It has all of the class of the green tweed bag, but with an understated, modern twist. (It's also a lot more versatile, grey goes with pretty much anything.)And, as a final bonus, it's compliant with British Airways & EasyJet hand luggage.Result.