Get prepped for spring: add a sage green tie to your wardrobe
Posted by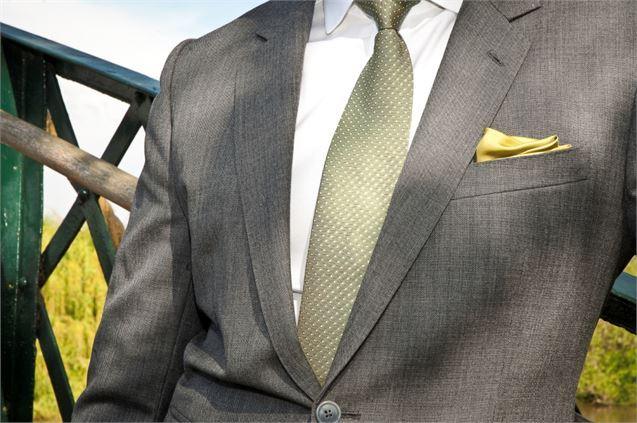 If Spring/Summer '16 saw sage green take the catwalk, then this year should surely be its big year. (These things usually take two years to make their way from high end to high street.)Which means that – if you want to stay ahead of the trend – you might want to add a splash of sage green to your wardrobe. (Perhaps in the form of a sage green tie?)
Before we start extolling the virtues of a sage green tie, a quick lesson in how to wear greens:
(We were going to write a chunk of advice here, but – as always – the guys at Gentleman's Gazette have done a video that says pretty much everything we wanted to say.)(If you haven't come across Gentleman's Gazette before, check out their YouTube channel or their website. It's full of easy-to-understand and incredibly useful advice on always looking your best. Plus, the man that presents the videos looks less like David Beckham and more like Jerry Seinfeld, which we like, too, because it shows us that good dress sense can overcome genetic makeup.)
So, why get a sage green tie?
We all know that pastels have become the standard for Spring/Summer now. Inspired by Miami Vice, beaches, seasides and anywhere else the sun shines are full of men in light pastels and Ray Bans.But when you step into the office, it's hard to keep that breezy, light, summer-is-here vibe going. You can't rock a Hawaiian shirt. You can't rock sandals. And you definitely can't rock shorts.But you can rock a sage green tie and a white shirt – and that's the next best thing.You see, sage green is still professional, classy and understated. (It's not like a pastel orange tie, which is more likely to divide opinion on a Monday morning.)The only trick to keeping it breezy, as
The Idle Man
point out, is to keep the shirts plain and simple:
White, light blue, and neutral coloured shirts will all work with a lighter green. It's all about experimentation, and finding out what looks 'right' to the eye. If you do decide to push the boundaries, start with a Cuban collar shirt to create a seventies vibe.
Not convinced?
Check out this number:
It's textured, understated and classy.But it's also light, breezy and relaxed.It's pretty much this song in tie form:
And if that hasn't convinced you to buy one, nothing will.