FT Picks: The 2017 SAG Awards' Best Dressed Men
Posted by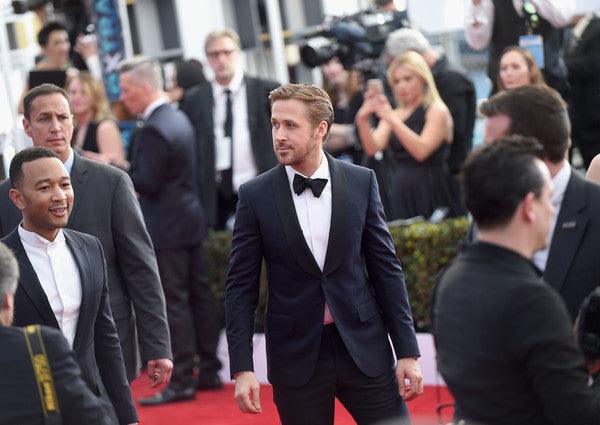 This year's SAG Awards – the annual celebration of film and television acting – was notable for many reasons. Winona Ryder's facial expressions (and David Harbour's acceptance speech). The celebration of diversity in the face of growing oppression (in the US and across the world). The wealth of political acceptance speeches. And, of course, the extremely high sartorial bar set by the male celebrities in attendance.
#5: Dev Patel
Quickly becoming a permanent feature in this monthly post, Dev Patel again demonstrates that you don't have to throw out the rule book to look sharp as hell. Navy suits were ten-to-the-dozen at this year's awards, but Dev just does it that much better. The waistcoat underneath, shooting the perfect amount of cuff, the watch, the pocket square, the perfectly cut trousers – it all just works. Top marks.
#4: Rami Malek
Another stalwart of every best dressed man post for the last 18 months, Rami is always pushing the boundaries of red carpet fashion. This week he rocked a Dior Homme hand-stitched suit with red accents paired with a black shirt. Not only is Rami single-handedly dragging men's red carpet fashion out of the oh-so-predictable navy/grey/black suit trend, but he's also on a mission to reclaim the black shirt combo from hands of the early-2000s and pub doormen.
#3: Ryan Gosling
Of course, Ryan Gosling was going to make this list. Like David Beckham, Mr Gosling is always impeccably dressed. However, this year's outfit pushes the boundaries a little – his navy Gucci tuxedo boasts a bold shawl collar and he's thrown it together with some subtle suede shoes. If you're looking for a style icon, you can't go wrong with Ryan Gosling.
#2: Caleb McLaughlin
It's time to admit it – you'll never dress as well as this 12-year-old boy. We've included him in one of these lists before (somewhat reluctantly because he isn't, technically, a man) – but his position this month isn't up for dispute. He dresses with a unique sense of style and confidence that could teach most male celebrities a thing or two – as demonstrated by his bold striped suit, bowtie and loafer combo. Caleb McLaughlin as the 2017's Best Dressed Man? Stranger Things have happened… (See what we did there?)
Winner: Mahershala Ali
If you haven't checked out Moonlight yet, then you might be more familiar with Mahershala as Remi Danton from House of Cards. Similar to his House of Cards character, Mahershala carries himself full of confidence, and this is nowhere no apparent than in his sartorial decisions. At 6"2, going for a completely white suit with black accessories is not for the faint-hearted, but Mahershala smashes it and walks away with the Best Dressed Man Award (as well as Best Supporting Actor, but we're sure he'll appreciate this not-at-all-made-up award more.)
BONUS Award: FT's 'Erm, OK then' Award
We'll be honest – we love Laurence Fishburne. The Matrix, Hannibal, Apocalypse Now – the list of great movies, TV shows and performances on his CV speaks volumes about his talent, ambition and range as an actor.
And, at this year's SAG Awards, he demonstrated that this ambition and range applies to his wardrobe too. Easily the most eye-catching, memorable and (dare we say it?) questionable outfit this year, Fishburne channels his inner-Morpheus and reps an Eastern-culture inspired mandarin-collared jacket with a bold, go-for-broke red lining, matching trousers, bright red shoes and – in true Matrix fashion - sunglasses.
We really want to take the mickey out of it, but we can't. Part of us knows that it's silly, but at the same time, it kind of works, doesn't it?
No? Just us? Right.
Let us know your thoughts on Morpheus' outfit – as well as any of the other outfits from this year's awards – in the comments below.