The FT Guide: How to rock an orange knitted tie
Posted by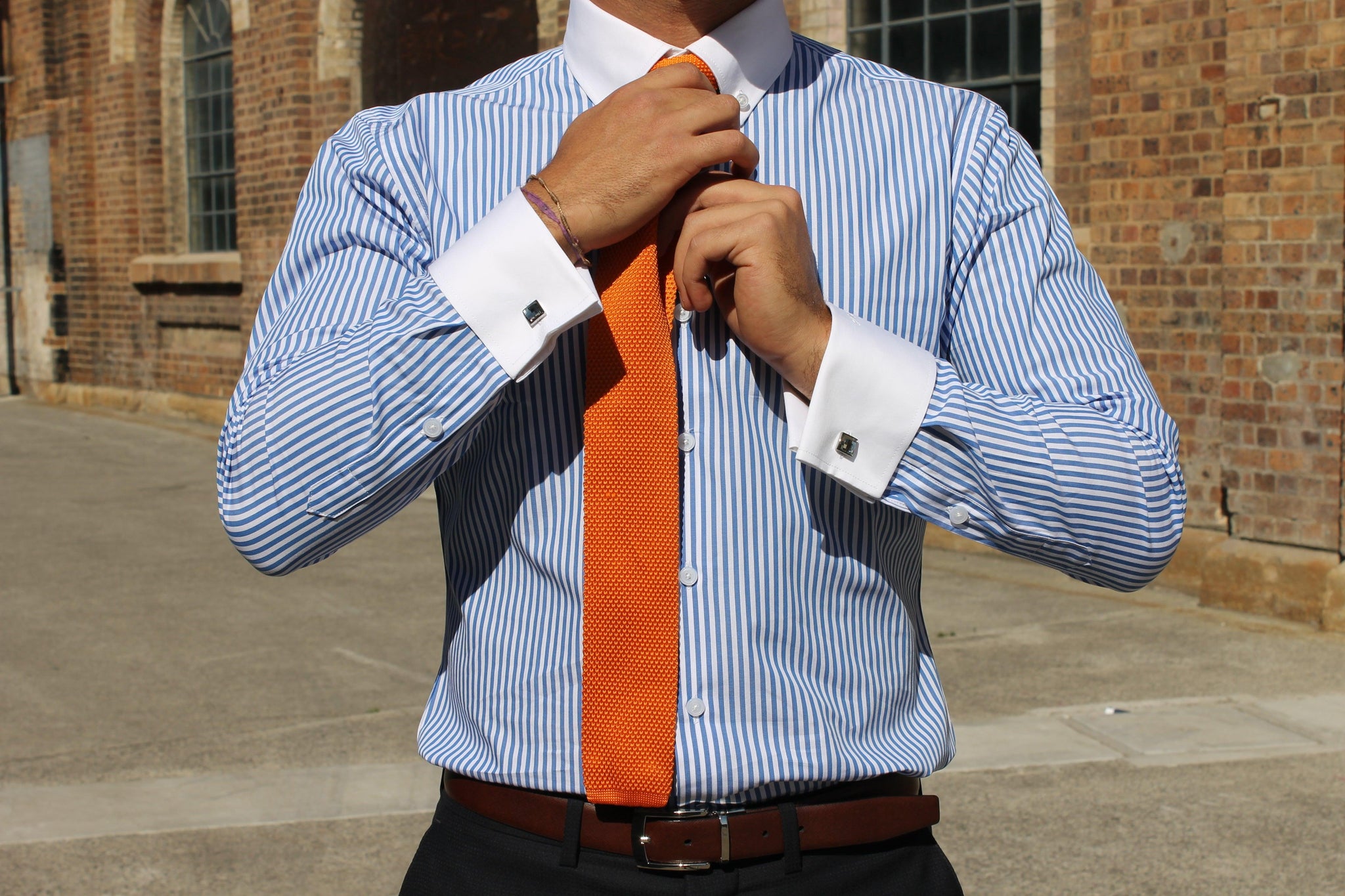 There's no doubt about it; wearing an orange knitted tie isn't a quiet choice.It's not a subtle choice.And it's not an easy look to pull off.But, if you put it together right and wear it with just the right amount of confidence, it's a game-changer.
The FT Guide to: rocking an orange knitted tie
If you're thinking of grabbing an orange knitted tie and throwing it on with your everyday suit, then hold fire.There are a few rules for wearing a vibrant number like this, and you're going to want to stick to them.
Rule #1: If you're going with an orange tie, make sure that it's the only pop of colour
Orange ties are a great look, provided that they're not fighting for attention from another vibrant colour source. Make sure everything ties together -- from your pocket square to lapel pin -- so that your outfit looks slick and well-thought-out (rather than bad 70s fancy dress).]
Rule #2: For an everyday look, stick with a blue or light beige suit
An orange knit tie needs to sit neatly in its surroundings. Make sure that you're pairing your orange tie with an understated beige (or light grey) suit or a bright navy suit. (If you're a tweed man, then make sure the shade of orange matches the shade of your tweed.)
Rule #3: Darker oranges in winter, lighter oranges in summer
As it gets colder, darker oranges and rusty colours work well with winter fabrics. But in hotter weathers, lighter oranges match up well with summer pastels.
Rule #4: For an on-trend seventies look, pair your orange knitted tie with a brown suit
Dark brown tweeds or brown suits look great with a rich orange tie - think Ryan Gosling in
The Nice Guys
:
Rule #5: Check out this video
As always, The Gentlemen's Gazette channel knocks it out of the park with a great guide on how to add a touch of orange to your outfit. If you've got ten minutes and you're serious about rocking that orange knitted tie, then you need to check it out.
Our orange knitted tie range
If you're on the hunt for that perfect orange neckpiece, you need look no further than our store. There's something for everyone in there, from soft cashmere numbers to bold blue and orange herringbones.
Why not check them out?