Suits you, sir: choosing the right suit for your body type
Posted by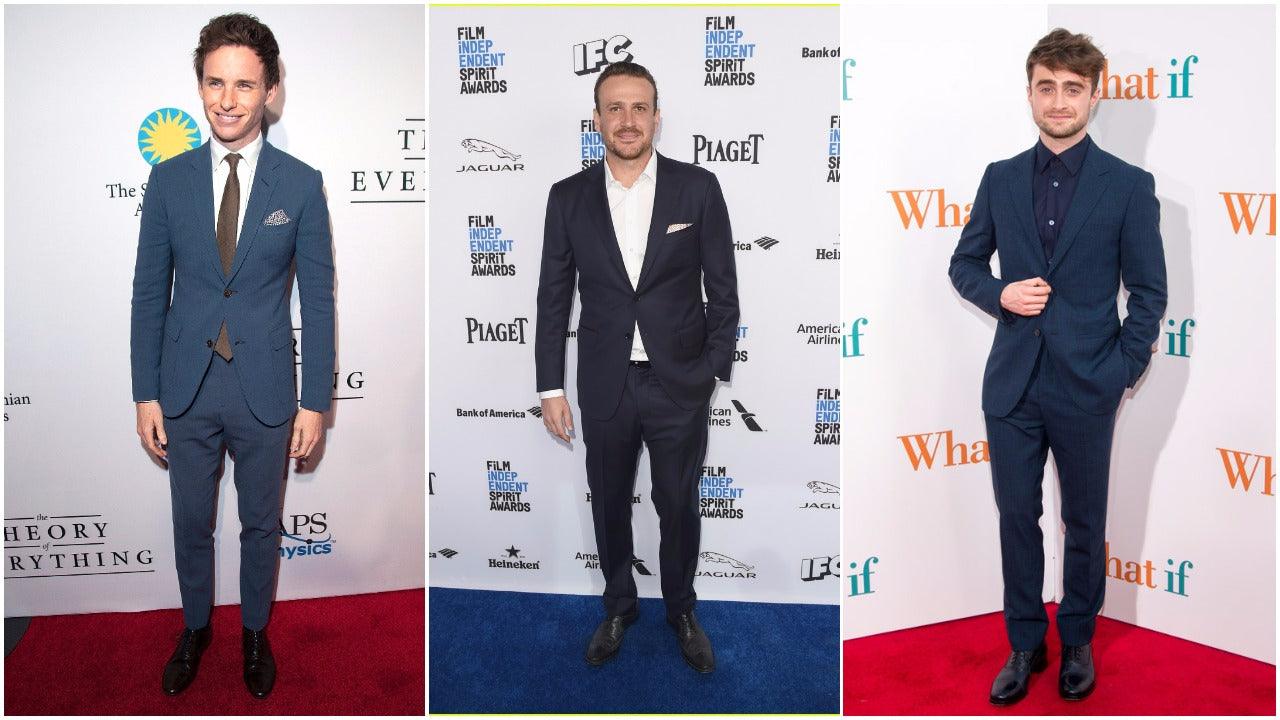 If you've ever read a 'How to look good in a suit' article – in GQ, Esquire or right here on the FT blog – then you've probably noticed that they're always written as if we're all the same height, build and stature. More specifically, they're written as if ever man is 6-foot-something, keeps himself in shape (but not too in shape) and is perfectly in proportion. But what about the shorter men? And the taller men? And the skinny, bulkier or muscular men? Where's their advice? Well, we're glad you asked. It's right here. We've together a handy cheat sheet for finding the right suit for your body type, whether you're tall and skinny or short and – erm, how do we put this? – a little out of shape.
FT's guide to finding the right suits for different body types.
Shorter Men
Examples: Tom Cruise, Daniel Radcliffe
Suit for your body type: Wear a slimming suit that creates one continuous line from your feet to your head.
If you're the kind of person who includes the half-inches when you're asked about your height, this is probably the advice for you.
The trick to appearing taller is to elongate your profile, and the easiest way to do this is to remove anything that breaks up the clean line running from your neck to your shoes. More specifically, you want to ditch the waistcoat and belt – these break up the clean line you want to achieve. Even more specifically, you want your suit to be well fitted – the slimmer you look, the taller you'll appear.
If you're looking for the real tips, then perhaps try accessorising from your chest upwards – tie clips, collar pins or pocket squares work well. These draw attention towards your head and make you look taller.
Taller Men
Examples: Jason Segel, Liam Neeson
Suit for your body type: Anything that adds a bit of bulk; wool-blends, tweed or herringbone.
If you've ever been asked 'what's the weather like up there?', then it might be time to start thinking about breaking up your profile a bit.
The key to distracting from your height is to add a little bit of width to your appearance and to break up the line that runs from your shoes to your neck. Bold patterns – checks, tweed or herringbone, for example – are great at distracting from your height, and the thicker, woollen versions are perfect for adding some bulk and distracting from your height.
You'll want to avoid vertical stripes, for obvious reasons, but you should also avoid ill-fitting suits or suits that are too tight or small.
Skinny Men
Examples: Andrew Garfield, Eddie Redmayne
Suit for your body type: Get a slim-fit suit. Not only are they on-trend, but it draws attention to the fact your chest is wider than your hips and makes you look bulkier.
With the abundance of skinny-fit and slim-fit suits available everywhere – from tailors to Topman to Tesco – it's a little surprising that skinny men have trouble suiting up. However, what is quite often the case isn't finding a suit, but finding a suit that doesn't make them look like they're on their way to prom (but have to be back before 10:30).
The trick is to make sure that you go for a slim-fit suit. You want the suit to draw attention to your physique, but not cling to it. (Think less Russell Brand, more Alex Turner.) Avoid ill-fitting trousers and jackets as these only serve to make you look even skinnier. A wide tie has the same effect, so stick to the slim ones (don't be tempted to go for a skinny tie, this can make the outfit look juvenile.)
That said, your skinnier frame allows you to be bold and daring in a way that built guys can't – big patterns and bold checks that would be too in-your-face on a larger man can look great on skinnier guys.
Muscular Men
Examples: Jason Statham, Hugh Jackman (the list goes on…)
Suit for your body type: Tailored (or at least altered by a professional). All those protein shakes and hours improving your personal best make it a little more difficult to buy something off of the rack.
It can be a bit of a pain that – after spending months bulking, cutting, counting your macros, drinking protein shakes and pushing yourself to the limit – that you try on an off-the-rack suit and it makes you look a bit silly. If it fits across the chest, the sleeves are too loose. If it fits your arms nicely, it pulls at the buttons. All that hard work for nothing.
However, there is a solution. If you can't afford a tailored, made-to-measure suit (which, let's be honest, are pricey) then getting a suit that's a size too big and getting a tailor to alter it is an affordable option.
The other trick is to slightly elongate your appearance – slightly longer jackets, large-peak lapels, minimal shoulder padding – to make you seem taller and less bulky.
Bulkier Men
Examples: Jonah Hill, James Corden
Suit for your body type: Dark tones and vertical lines help to streamline your build and make you seem taller and slimmer.
Ever tapped your belly and muttered 'all bought and paid for'? This might be just the advice you need.
First up – get a suit jacket that fits just right. Much like muscular guys, getting a tailor to alter an off-the-rack suit is a good, wallet-friendly way to do this. And boy, is it worth the effort. Usually, the suit jackets for burly men are a bit life wearing a sack – they hang in all the wrong places, are far too long and don't do your profile any favours.
A well-fitted jacket, on the other hand, transforms your softer, rounder features into strong, sharp lines, making you look more muscular and less wobbly. (If you can get a jacket to pinch in around your torso, stop just below your waist and sit tight on the shoulders, then you're onto a winner.)
In terms of colours and patterns, monochrome colours are slimming, so that's a good start. Try to keep everything of a similar shade or material, too. And avoid accessories that draw attention to your width too, namely very skinny ties.
Do you find it hard to dress for your build? What's your go-to trick to look your best when you're suiting up?