Next-level accessorising: the knitted pocket square
Posted by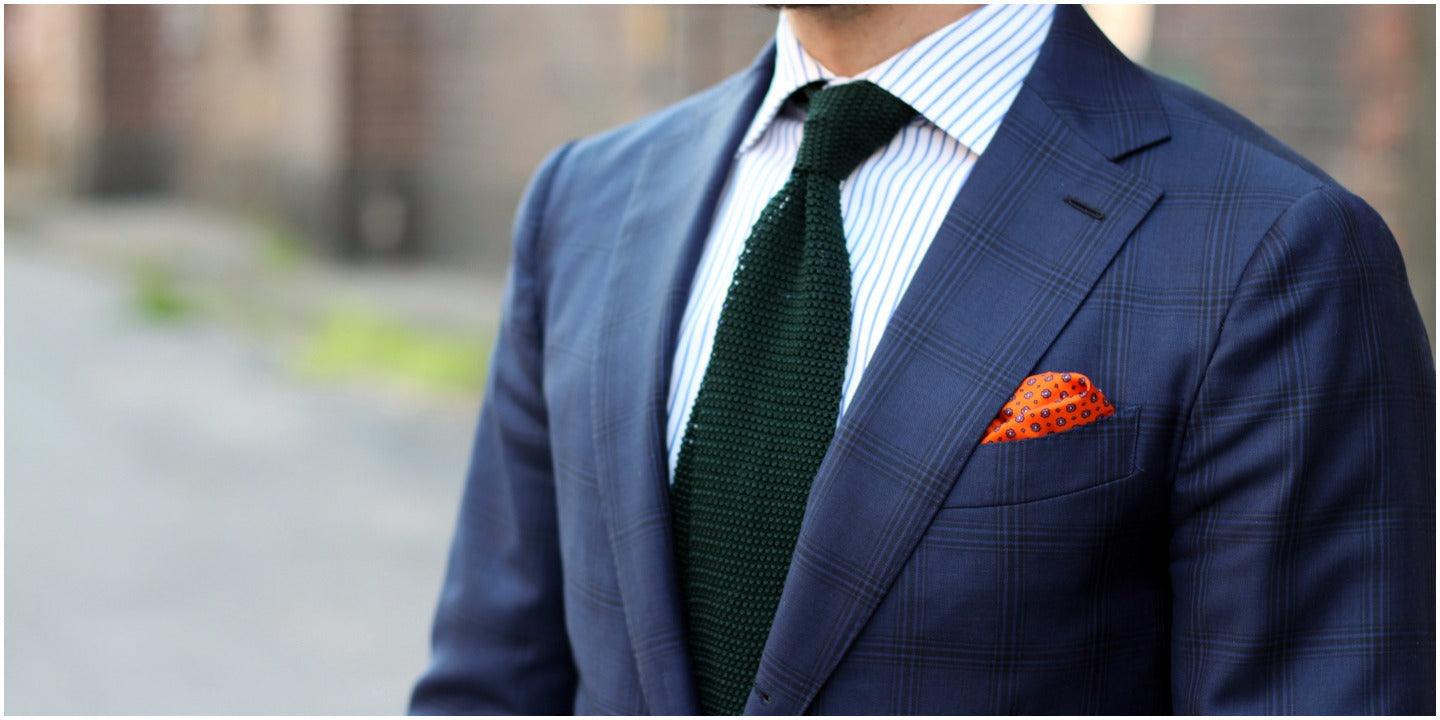 We all know about the knitted tie. It's perfect for bringing a touch of the casual to the formal outfit or for shaking things up a little.And we know that it has a long history of association with arbiters of cool: James Dean, Sean Connery (and James Bond) and The Beatles. More recently, men's style icons like David Beckham, Ryan Gosling and Idris Elba have all rocked a knitted tie.
And yet, what about the knitted pocket square?
Why don't we ever hear of celebrities rocking a knitted pocket square?Because it's a next-level accessory move. It's not for amateurs.
Why you should up your breast pocket game with a knitted pocket square.
The knitted pocket square comes with all the advantages of a knitted tie.
They're smart but relaxed.
Which means that they're perfect for transitioning from wedding to reception – or office to bar – without the worry of being under-or-over-dressed.
They add texture.
The close knit of the pocket square adds a touch of texture and detail – perfect for rounding an outfit that falls a little flat.
They're eye-catching.
Like we said, rocking a knitted pocket square isn't an amateur move. It's eye-catching, and for all the right reasons. It's subtle enough to not be your-dad-in-a-musical-tie eye-catching but bold enough for people to stand up and take note.
TR louche.
We like the word louche here at FT – and knitted pocket squares are just that. They're rakish, roguish and a little bit care-free. They show that you know how to dress well, but you're going to do it your way.
How to rock a knitted pocket square
OK, like we said, knitted pocket squares are meant to be subtle. So, you're gonna want to follow the golden pocket square rule: match the colour to another aspect of your get-up.Even better, match up your knitted tie with a knitted pocket square for a laidback look that's not out of place in the bar, meeting room or church.
However, don't throw one on for the sake of it.
Getting the carefree yet well-dressed look that comes with knitted accessories isn't easy. In fact, it takes a lot more effort than just throwing on a grey two-piece with a white shirt and tie.You need to balance the formal/informal aspects until they're in perfect harmony. Your knitted pocket square needs to blend in with the overall vibe you're going for. You can't wear a tuxedo with a silk bow-tie and then a knitted pocket square – you'll look a fool.
Looking for somewhere to start?
At FT, we've got a whole host of
knitted pocket squares
in a huge range of colours. Why not head over to our shop and have a look around?(If you act fast, they're on sale at the moment, so you can nab yourself a bargain.)