FT Picks: The 5 Best Dressed Men at the Oscars
Posted by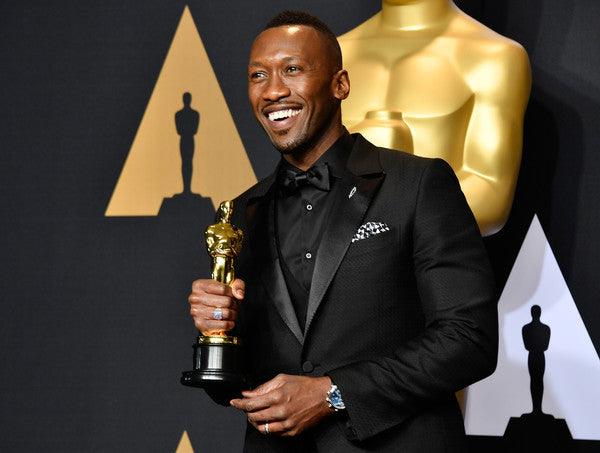 Much of the talk about this year's Oscars ceremony has been about that moment, which has meant that some of the more sterling menswear efforts have slipped beneath the radar. However, at Frederick Thomas, we're always on the hunt for the best dressed men of the moment, and the Oscars was no different. So, without further ado, here are our 5 best dressed men at the Oscars 2017.
FT Picks: The Best Dressed Men at the Oscars 2017
#5: Viggo Mortensen
Before we talk about his top-drawer three-piece ensemble, can we have a moment of appreciation for how cool Viggo Mortensen is? Although we often talk about the Denzels, the Goslings and the Hardies of this world, the Mortensens often slip the net. You probably know him as Aragorn from Lord of the Rings, but if you haven't seen Eastern Promises or A History of Violence, you're missing out.
Anyway, back to the outfit: Viggo wore a dark navy three piece suit with a bird lapel pin and what looks like a batwing bowtie to show us that you don't have to be showy and in-your-face to be incredibly well dressed.
#4: Mahershala Ali
Not just one of the best dressed men at the Oscars, but one of the best dressed men of the moment, Mahershala Ali shows us that you don't have to dress like everybody else to look good.
He also shows us that perhaps all-black outfits aren't such a massive no-no. Proceed with caution though, there's a very thin, delicate tightrope to walk there: one misstep and you go from Mahershala Ali to nightclub bouncer circa 2007.
#3: Riz Ahmed
A British boy done good and one of the best dressed men at the Oscars, Riz Ahmed rocks an Ermenegildo Zegna blue suit with three-tone shoes and – hold the press, I think we've just noticed 2017's hottest bowtie trend – another batwing bow tie.
Also, check out the tailoring on those trousers. Sitting comfortably at the perfect height – that's how it's done. If you're wondering how your trousers should fit when you're suited up, take note.
#2: Justin Timberlake
He's bringing texture back. From a distance, it looks like every other impeccably-tailored Oscars suit, but up close the Tom Ford tux has an incredibly subtle detail that adds a whole new dimension to the whole thing.
As well as demonstrating that JT is a man of incredible taste, this also goes to show that it's impossible to look bad when you're dressed in Tom Ford.
And the winner is: Jamie Dornan
Hold on.
We've got it wrong.
PricewaterhouseCoopers gave us the wrong envelope.
Sorry about that, that's embarrassing.
The winner is actually:
Ryan Gosling!
The baby goose may have lost out on the night, but he's a winner in our books. At FT, we're always looking for men who push fashion boundaries. Whether it's a flash of colour or a double-breasted jacket, it's always great when a man goes outside of the two-piece black tuxedo formula.
But, we'll be honest, we never expected ruffled shirts to make a comeback. At least, we never expected them to be cool again.
That's the power of Gosling – so effortlessly cool he can take an item of clothing previously associated with Austin Powers and make it work.