FT Guide: How to wear a tweed tie
Posted by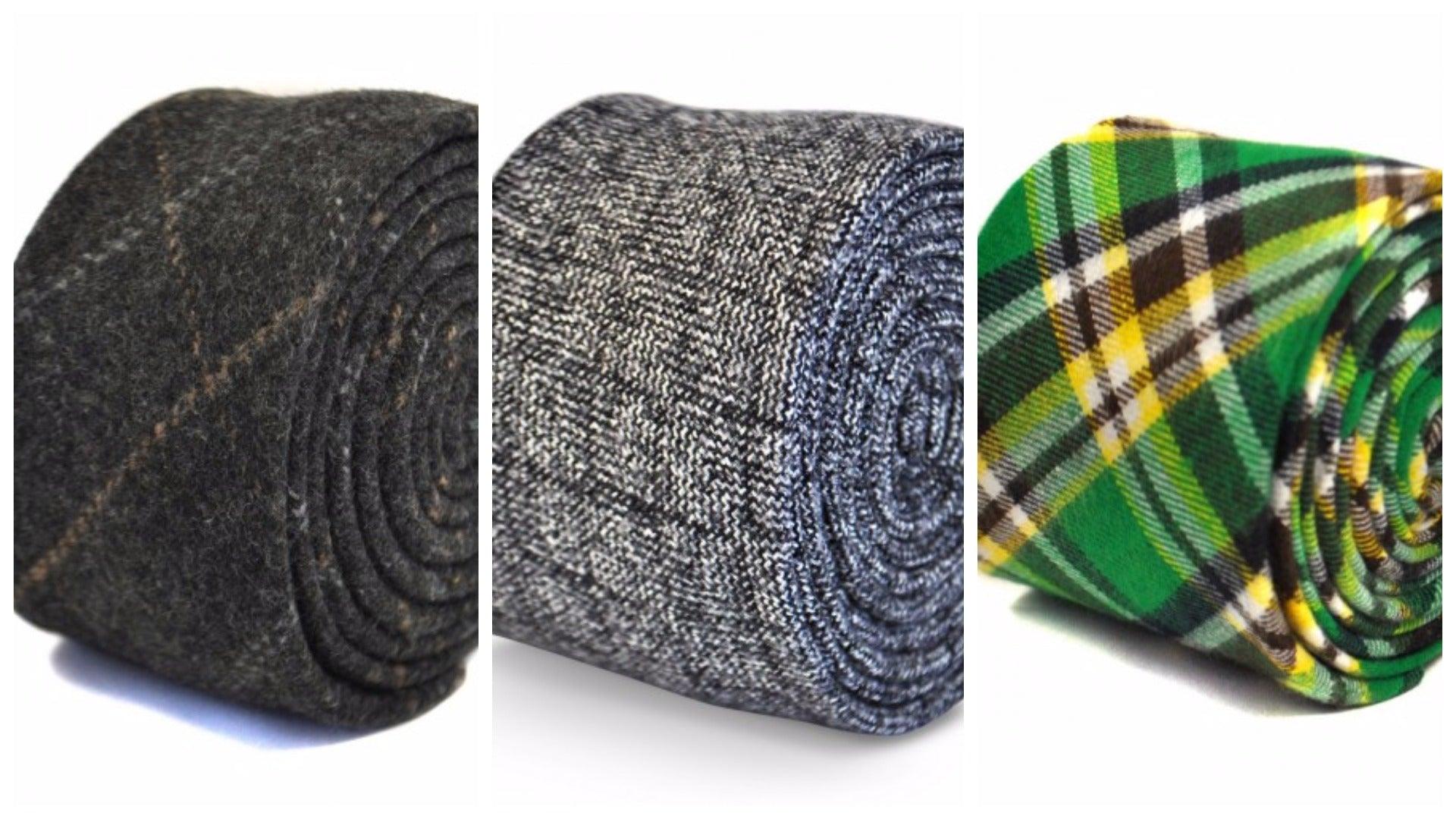 For years, tweed had a bit of a bad reputation.
Just the mention of tweed would call to mind an older, well-to-do gentleman who was off for a spot of fox hunting or hacking through the countryside on horseback.
But then, a few years ago, tweed had a re-invention.
Tweed was cropping up everywhere, from high-street stores to Nike high tops. Tinie Tempah even got involved.
And so, of course, the internet was awash with tonnes of 'How to Wear Tweed' guides.
If you managed to miss them, take a minute and check out the GQ video below:
But what about a tweed tie?
In all the articles about tweed jackets and tweed trousers, there was hardly ever mention of tweed ties.
Which is a shame, because tweed ties are a great way to add a touch of texture and contrast to your outfit, especially if you're wearing tweed trousers with a plain jacket. Even if you're just wearing trousers and a shirt, tweed ties are an eye-catching detail that takes your outfit up a good couple of notches.
If you don't have any tweed ties in your wardrobe and you're looking for a place to start, we suggest going with a grey tweed tie. Not only does it go with almost anything, but it's subtle and understated too.
FT's Top Tip: If you're wearing a checked shirt with your tweed tie, make sure that one of the colours of the check matches your tweed tie
A few tweed ties from our collection:
The Beginner: Dark Grey and Brown Check Tweed Skinny Tie
If you're new to the world of tweed ties, here's your way in. The skinny (6.5cm at the widest point), dark grey tweed and brown check are all subtle details that will add a touch of texture and class to your next outfit, whether you're heading to a wedding or that next big meeting.And, like all of our tweed ties, this bad boy has been handmade.
The Intermediate: Dark Grey Box Herringbon Tweed
Like the one above, this tie adds a touch of class and texture to any outfit – the box herringbone tweed is a nice detail, adding a confident flair to the usual check.
The Professional: Green, Yellow and White Check Tweed Wool Tie
Here's a tie that it's going to take some confidence to pull off. If you're new to tweed ties – or you've only worn a few tweed ties in your life – this might not be the tie for you.
But if you're a man who likes his ties to be expressive, eye-catching and to make a statement, then this is the tweed tie to beat all tweed ties.Bold, bright and yet still classically British and classy, this skinny tie also features a retro floral print on the back.
Do you have any favourite tweed ties in your collection? Or are you more of a woollen tie man? Let us know in the comments below.