Christmas Party Essential: the red knitted tie
Posted by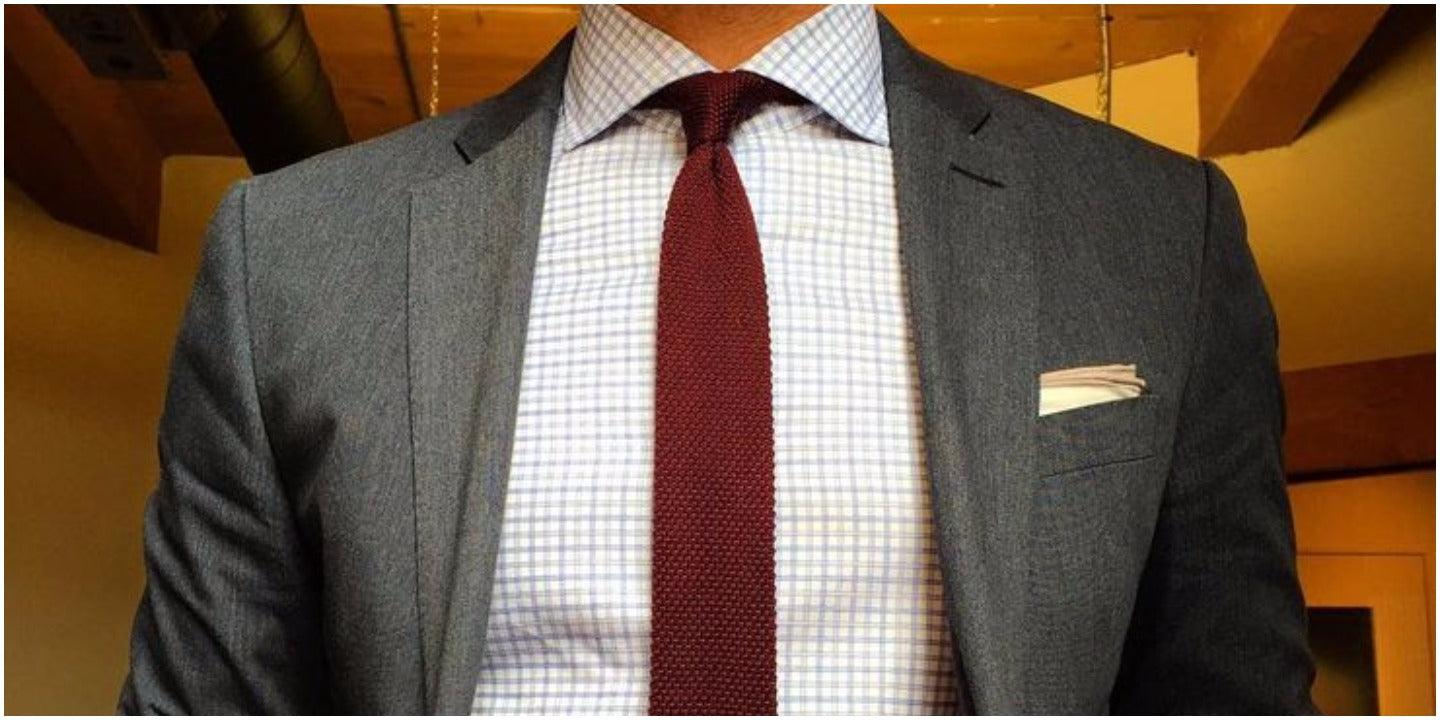 You can't beat a good Christmas party, can you? Free booze, a chance to unwind and – if you're lucky – a chance to see somebody from the office (hopefully not you) make a bit of a fool of themselves.There's just one sticking point – and it comes in the form of two words: smart casual.You see, that phrase has become so ubiquitous and overused that unless your Christmas do is a black or white tie event, you're almost certain to read 'Dress code: smart casual' in the round-robin email inviting everybody to the party.
But what on earth does it mean?
Does it mean 'anything but trainers' or 'jeans and a shirt'?Get it wrong and you'll know an embarrassment like no other. Trust us on that one. (Don't ask.)But there is a Christmas party essential that will always have you looking at your best, whether it's a jeans and a shirt kind of party or a trousers-no-jacket kind of party: the red knitted tie.Christmas Party Lifesaver: the red knitted tieOh, the red knitted tie. We could write reams and reams on the merits of the red knitted tie – it's smart, it's casual, it's eye-catching, it's bold, it's adventurous, it's a staple of Ryan Reynold's wardrobe (who doesn't want to be Ryan Reynolds?) and it's versatile.But at Christmas, it really comes into its own.For a start, it's red.Who else has been known to rep red around the Christmas period? You got it – your boy Saint Nick. And nothing says Christmas more than a man who has eaten more than his fair share of mince pies, does it? Red – thanks to our friends at Coca Cola – is the colour of Christmas, and your red knitted tie is the perfect way of showing your festive spirit.
On top of that, the red knitted tie lends itself nicely to the ultimate Christmas party outfit:
Brogue shoes, slim fit trousers, belt, lightly checked shirt and a red knitted tie. (If you want to err on the side of caution, you can pair it up with a pea coat for a smarter finish.)If you turn up and the party is on the smarter side of smart casual – keep your top button done up, your red knitted tie neat and your sleeves rolled down and you'll look right at home.If you turn up and it's a casual approach to the dress code, undo that top button, loosen your tie a little and roll up your sleeves. (And enjoy being the best-dressed person there.)You see, the red knitted tie doesn't just scream Christmas. It also screams laidback cool – and you'll have that in bags the moment you rock up to the party wearing one.Trust us.
Our favourite red knitted tie:
In our store, we've got more knitted ties than you can shake a stick at, but as we're talking about Christmas parties, we've got to choose
this one
:
OK, it's a maroon knitted tie (not a red knitted tie) but maroon is a type of red, right?Anyway, it's the perfect way to wear a Christmas jumper to your Christmas party without wearing a Christmas jumper to your Christmas party.Plus, it's fun and stylish at the same time. (Like a cool version of that novelty tie your dad wears every year.)
Why not grab one for your Christmas party? We guarantee it (and you) will be the centre of attention.