Tying the knot? Here's how to choose the perfect wedding tie.
Posted by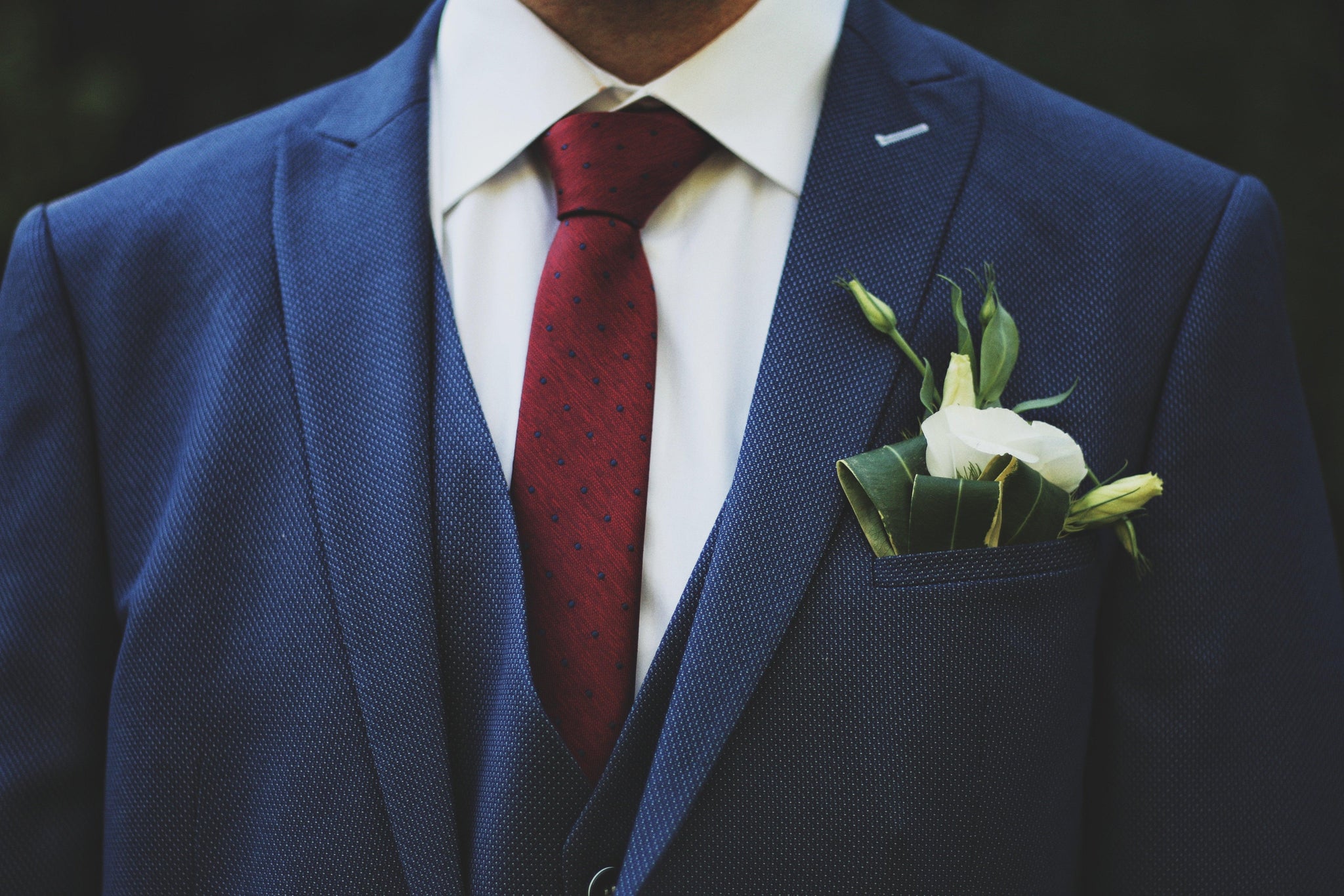 Choosing what to wear to your own wedding, as a man, isn't a thing you see discussed in many places. (And we're not even talking about choosing the right wedding tie yet – even choosing the right wedding suit is hardly discussed.)To see what we mean, watch any episode of 'Don't Tell the Bride' and you'll normally see a good portion dedicated to choosing the dress and barely a few seconds picking the suits. (Most of the time, it's a quick throwaway: 'we've picked up our suits and now we're off on the stag do'.)In fact, this scene from
I Love You, Man
is one of the only instances we can think of men
actually
planning what they're ging to wear to their own wedding:(Now we're resisting the temptation to stop writing this article and stick
I Love You, Man
on instead.)But, according to
The Guardian
, men are starting to take more of an active interest in what they're wearing to their weddings. (They call these grooms 'peacock grooms', which we're not really a fan of. At all, really.)Either way, it seems that the days of just renting a suit and being done with it are long behind us, and us men are starting to care a little more about what we wear on our wedding days.And, as we always say here on the FT blog, there's nothing more important to your overall look than your tie.Choosing the right wedding tie can take a basic suit up a notch or two and turn a good suit into a great outfit.
But with so many wedding ties available, how do you choose the right one?
STEP ONE: START WITH THE COLOUR SCHEME OF YOUR WEDDING
The very last thing you want is to stand at the altar and clash with the rest of the wedding party. (Even worse, you clash with your bride. That doesn't send a good message, does it?)That's why it's a good idea to check the colour – or theme – of your wedding.You might have a rigid colour scheme, you might have a theme (say, like a festival wedding) or you might have no theme at all – but every single one of these options is going to affect the wedding tie you can choose from.
STEP TWO: CHOOSE YOUR SUIT
Unless you're a proper tie-nut, we doubt your tie is going to be the first thing you choose.To start, choose a suit that you really like.
GQ have a great guide on choosing a suit
, featuring this quote from Kathryn Sargent, the Head Cutter (a title that sounds like a B-movie horror film from the 1970s)
Gieves & Hawkes
, No.1 Savile Row:
I always think you should go for impact when choosing fabric for a wedding suit: something that's a bit heavier and will hold its shape. If it's a morning suit or a dinner suit you either go for barathea or wool mohair. They both create very sharp silhouettes. Alternatively, you can create a very draped, soft look. It depends what the client wants and what will flatter his figure.
She also comments on dressing differently for a summer wedding:
Light greys are very formal and British - you can't go wrong really with grey. Think of Prince Charles - that kind of colour is really elegant and will suit most skin tones. Don't go for a navy either - try more a mid-blue or grey-blue, they come up really fresh. You've got to think differently to business. If you're getting a casual suit and not a morning or dinner suit, what's the point of getting married in a dark cloth in the summer?
On the whole, you need to consider whether you're getting a suit that you're going to wear again, or whether this is a one-off suit.From there, you need to pick a cut that suits your body, a material that suits the wedding theme (and the time of year)
and
of course, makes you look your very best.Simple, eh?
Here is some more GQ content, this time on picking a suit that makes you look suave.
STEP THREE: NOW START THINKING ABOUT YOUR WEDDING TIE
OK, you've got the theme or colour scheme noted down and you know what suit you're going to wear,
now
it's time to choose your wedding tie.First, think about what time of year you're getting married – and how formal your day is going to be.Summer weddings require thinner fabrics and lighter colours, while winter weddings lend themselves to richer colours and thicker fabrics. And, of course, the more formal the wedding, the more traditional your tie should be.
In fact, there are so many variables, that it's hard to give proper advice.
In a nutshell, however, make sure your colour matches the rest of the wedding party, that it matches your suit (perhaps even pair it up with your pocket square or cufflinks) and – most importantly – that it makes you feel like
007
. It's your wedding day – it's your chance to live out your suit-wearing fantasies, whether that's drinking a shaken-not-stirred Vespa martini, channelling your
inner Cary Grant
or copying Mr Gosling in
Crazy, Stupid, Love.
(While we can't attest to the quality of that film – and we're a little embarrassed for having seen it – have you seen some of
the suits he wears
? Move over,
Drive
…)We wrote a post last month about choosing the right type for different types of wedding (you can
read the whole thing here
), but here are our recommendations:
A TRADITIONAL WEDDING:
Keep it classy and understated – monochromatic ties or a tie that matches the theme of the weddings are great, because big bold patterns or knitted ties can stand out against traditional suits, venues and wedding parties.
A MORE RELAXED WEDDING:
For a less formal wedding, we can't get enough of a nice
paisley wedding tie
. You can keep the base colour traditional – a navy blue or grey – while also adding a nice flash of personality and colour. (With less traditional weddings, you can also afford to trim a little off the width of your tie, if you've got a slimmer frame.)
A NON-TRADITIONAL WEDDING:
If you're having a non-traditional wedding, like a festival wedding or a barn wedding, then you can pretty much go wild. We love a good
knitted tie
for outdoor weddings, they keep the rustic theme running through your outfit and keep you looking sharp yet casual.
If you're looking for the perfect wedding tie for you and your groomsmen, head over to our wedding tie section – we've got everything imaginable on there, from traditional ties to paisley numbers through to – our favourite – the knitted wedding tie. Check them out!