FT Picks: Our Top 5 Animal Ties for Animal Lovers
Posted by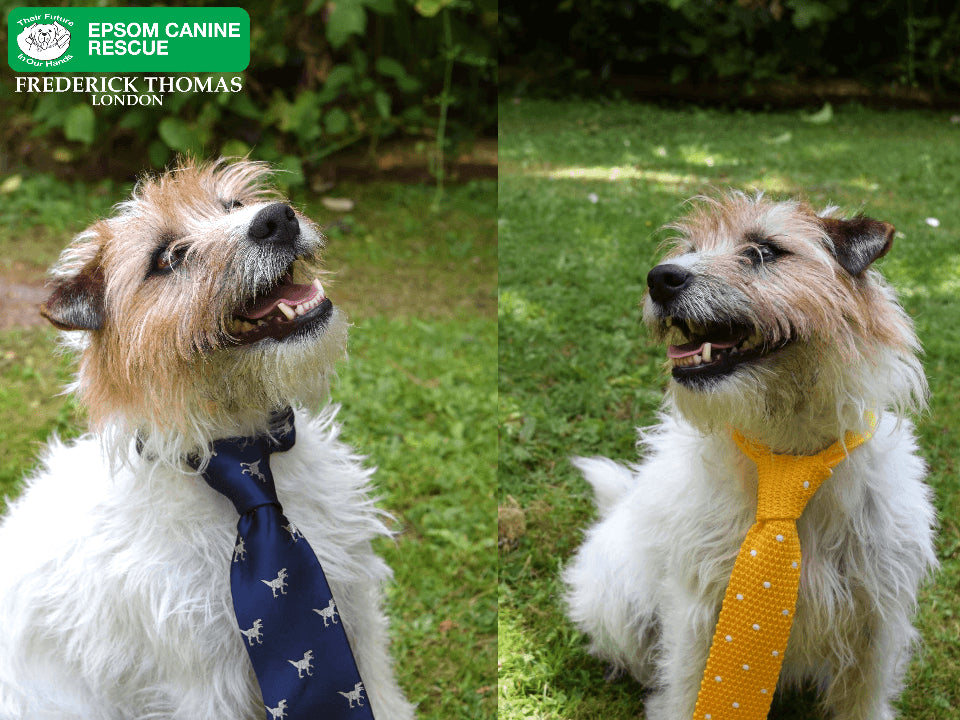 Whether they've got four legs, three legs, two legs or no legs, we love animals here at Frederick Thomas. (If you didn't catch it, did you see the photoshoot we did with Epsom Canine Rescue last year?)
That's why we've created a range of ties that feature some of our favourite animals, creatures and critters.
What are you waiting for? Make like David Attenborough and check out our top 5 animal ties for animal lovers:
(Public service announcement: this post is full of terrible animal puns. Don't say you haven't been warned.)
For the man who always dresses to the canines:
If you're looking to buy for a man who's never without his four-legged friends, then you need look no further: we've got just the tie for you.
This handmade tie with a dog silhouette is perfect for any dog-lover – smart, understated but covered in a dog print. (We resisted forcing a paw print joke in there!)
And, just to prove how good this tie looks, here's a very special model, Chotah, showing it off:
For the man who is always feline good:
If you're buying for a man who's more Top Cat than Huckleberry Hound, then there's only one animal tie for you.
This navy-blue tie goes purrfectly (groan, sorry) with anything, from his everyday work suit to his finest wedding attire.
Like all of our animal ties, this one's handmade too.
(Other cat ties are available too - you can never have too many cat ties!)
For the silver fox in your life:
If torn-up bin bags and rubbish strewn all over the front garden aren't enough to put him off foxes, then this might just be the tie for him.
The dark green tie gives a classy background, while the all-over fox print is eye-catching but understated. (Also available in navy blue or maroon.)
(We know, there's only one fox joke in this section. Fox jokes are hard, OK?)
For the man you have to badger for present ideas:
If you're constantly finding yourself badgering him for present ideas – and you've exhausted the usual supply of power tools, socks and alcohol – then why not get him one of these animal ties? Better still, why not get him this badger tie?
Handmade in a deep burgundy with an all-over badger print, this is a must-have for any badger lover out there. (Perhaps you could even send one to Brian May?).
For the man who never lost his dinosaur:
OK, OK, we know. A T-Rex tie shouldn't be in with the animal ties.
But we challenge you to find a man out there who, deep down, doesn't still think dinosaurs are the coolest thing ever.
So why not let him embrace his inner Ross Geller and wear this tie like a true palaeontologist.
Most of all though, don't let him lose his dinosaur.
Are you the proud owner of one of our animal ties? Upload a picture on social media and tag us, we'd love to see them out in the wild.