Tying the knot: the only 3 wedding ties you'll need to get ready for wedding season
Posted by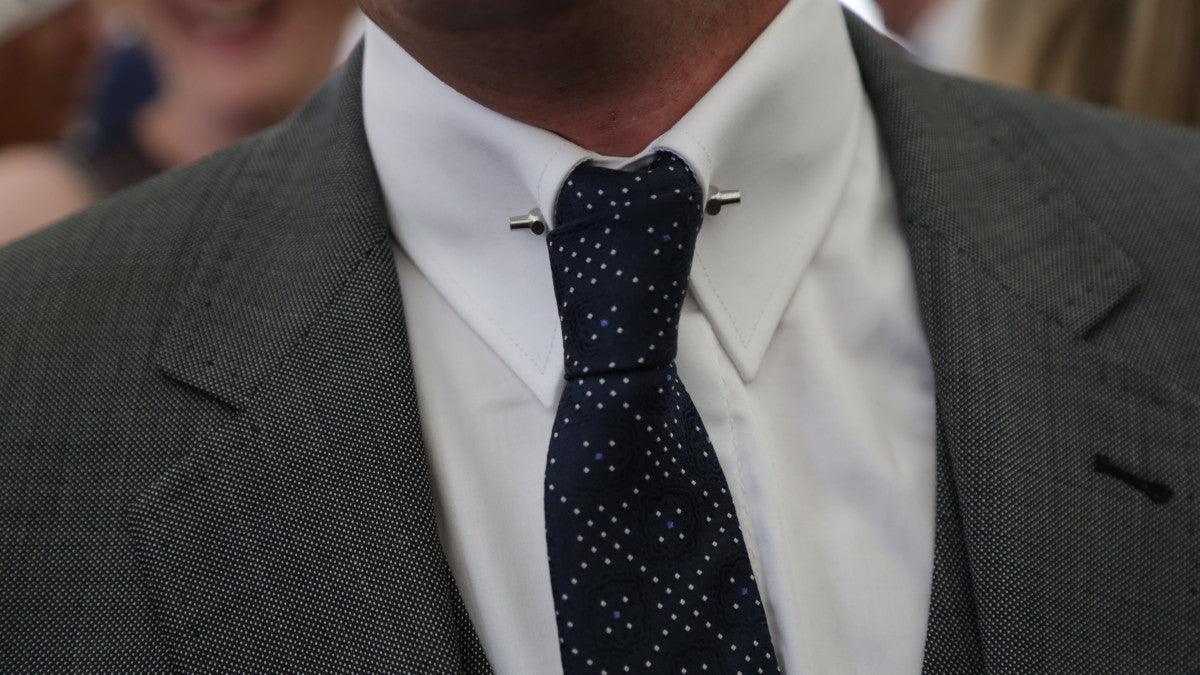 Holy Matrimony, Batman!Did you know that every year,
over 1 million people get engaged on Valentine's Day
? That's 500,000 couples that will be planning on tying the knot over the next 18 months, and it's almost certain that you're going to get an invite or two in the post.
The thing is, weddings aren't as easy to dress for as they used to be.5 or 10 years ago, it used to be that you could get away with one nice suit, one nice tie and one nice shirt, and you'd be sorted for every wedding for the next few years.
Not anymore.
Oh no, with an endless list of different wedding types – festival weddings, barn weddings, traditional weddings, non-traditional weddings… – it's got harder and harder to have a ready-to-go wedding outfit sitting in your wardrobe.Of course, the first steps are easy: get yourself a navy or dark grey suit and a crisp white shirt. You can't go wrong with these – they're classy, timeless and can be dressed up or down depending on the wedding without looking out of place or thrown together.The tricky part is picking your tie.Luckily, we've got your back.
We've put together a quick guide to the only 3 wedding ties you'll ever need. (And we've included wedding ties for every occasion, from your sister's bohemian wedding in a stable full of hay bales, to your cousin's fairy-tale, Disney princess wedding.)
Wedding #1: The Traditional Wedding
We know, the term traditional wedding is a little broad, so let's be clear: these weddings usually take place at a church and then head back to a manor house (or somewhere similar) for the reception. Fairy-tale weddings, Disney-inspired weddings or the kind of thing you usually see on Don't Tell The Bride fall into this category too.
What wedding tie to wear?
For these weddings, it's always best to keep things traditional and classy.We suggest this
ivory damask, paisley design tie.
It's classy and understated, but with a paisley pattern that adds an extra touch of texture to your outfit.
It's a winner, that's for sure.
Wedding #2: The Relaxed Wedding
OK, here's where things get a bit trickier. The relaxed wedding is different to the Very Relaxed Wedding (see below).The Relaxed Wedding usually takes place at a fancy registry office or local church, followed by a reception at a country pub. It is formal, followed by relaxed – and that's super tricky to dress for.
What wedding tie to wear?
A Relaxed Wedding is a little closer to the Traditional Wedding than it is the Very Relaxed Wedding in terms of formality, so think of something formal that's not going to look out of place at 1am after you've opened your top button and had a few drinks.
This
navy blue paisley tie
does the trick nicely.Buttoned up in church, it looks the picture of sophistication (with just a hint of individual style) – and holds up equally well late at night, too.
Wedding #3: The Very Relaxed Wedding
This is the type of wedding we referred to earlier – the type of wedding that takes place in a barn or a stable or in a forest.They're becoming more and more popular, so make sure you've got a wedding tie ready (just in case you become an emergency +1).
What wedding tie to wear?
It's still a wedding, so you've got to be wedding-ish, but not too wedding-ish. Easy, right?Speaking from experience, you can't go wrong with a
knitted tie
at a VRW. They're still formal, but they've also got that relaxed vibe and rugged texture that's just right for spending the day in a dusty field.
(This
maroon wedding tie, complete with subtle love hearts
, is a fool-proof choice.)
So there you have it, your go-to guide for every type of wedding you might get invited to this season. Did we miss one? Let us know!