Put your best foot forward: the 3 rules of wearing patterned men's socks
Posted by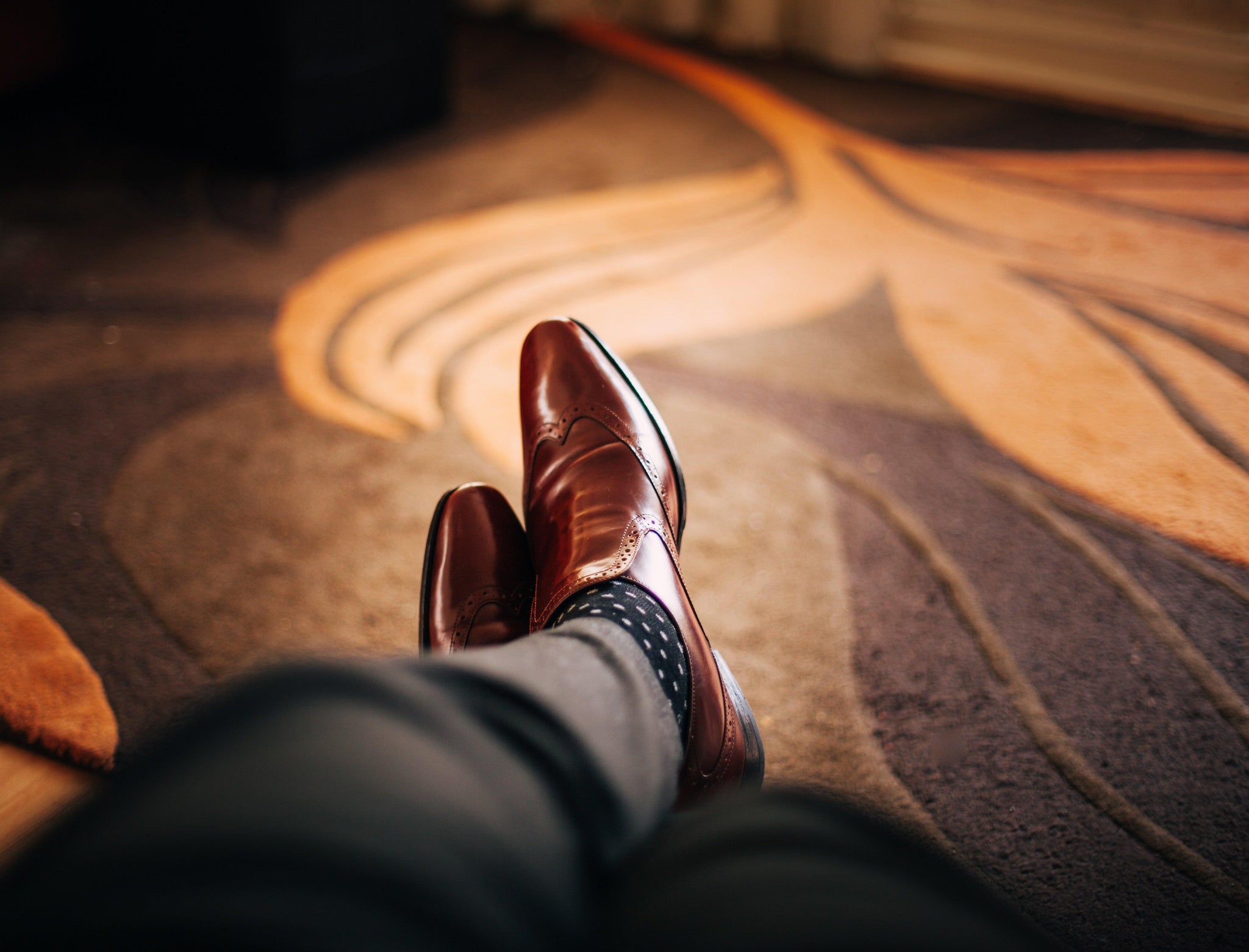 Ahhh, men's patterned socks – the marmite of modern sartorial decisions. Some men love them, some men hate them.Us? We love them.
We can't get enough of quirky, in-your-face patterned men's socks. (In the right circumstances, at least.)
You see, wearing a pair of statement socks isn't just a case of 'pick the quirkiest socks you can 2find and throw them on with your suit'.There's a lot more to it than that, and the stakes are higher.Pick the wrong tie or shirt, and, worst case scenario, your outfit looks a little off for the day.Pick the wrong statement socks and, even best case scenario, you look like Bozo the Clown.That's why it pays to make sure you know the three rules of rocking patterned men's socks.
Luckily, we're like the Yoda of statement socks, here to show you the path to exceptional sock game.
So beware, for once you start down the sock path, forever will it dominate your style, consume you it will.(That's probably not going to be the last Yoda quote. Sorry.)
Rule #1: Learn when it's OK to wear patterned men's socks
(Check out Canadian Prime Minister rocking the patterned socks - a great example of understated confidence.)
Funerals. Weddings. Important work meetings. Black tie events. White tie events… The list goes on. Patterned men's socks are definitely not right for formal events of any kind.By their very nature, patterned men's socks are playful, anarchic and rule-breaking – they're the Johnny Rotten of men's accessories.Would you take Johnny Rotten to a job interview or a funeral?Thought not.Instead, save your statement socks for situations where showing your personality is a little more acceptable – around the office, at an informal(ish) event, etc…At these events, a pair of patterned men's socks says 'I know the rules, but I'm breaking them on purpose to have a little fun. Deal with it.'It's bold. It's confident. And it puts you a step ahead of everybody else in the room.
Rule #2: Jump into the patterned men's sock game with both feet, you must not.
Jon Hamm rocking some patterned men's socks alongside some timeless menswear staples.
If you've always been a black sock type of man, heading into the office with an in-your-face pair of orange beacon socks on isn't going to work.Ease yourself into the statement sock world, you must.Start with a classic patterned sock –
an argyle, paisley or striped sock in blacks, greys and blues for instance
– and introduce them into your everyday wardrobe. They've been menswear staples for the best part a century, so you're still playing it fairly safe while you broaden your horizons.Then, start experiment with different colours – getting brighter and brighter over time, until you can wear pops of bold patterns without anybody thinking you're off to join the circus.
Rule #3: Make sure your patterned men's socks match your outfit
Aaron Paul giving a masterclass in how to match your bold socks with the other colours in your outfit.
Just because your socks are making a statement doesn't mean they have to clash with everything you wear.Make sure your socks coordinate – coordinate, not match – with the rest of your outfit.An easy way to do this is to make sure that the colours in your socks don't clash with any other colour you're wearing.You can also take a colour that's in your tie, for instance, and make sure a similar shade is on your socks. Even if it isn't an exact match –
bright orange matches with burnt orange, for instance
– your admirers will see it all as a good match.That, friends, is the path to statement sock nirvana.
One last tip:
Don't be afraid.Wearing patterned men's socks requires confidence. They're in-your-face and brazen. They've got bags of bravado.So make sure you're completely confident about wearing them, otherwise the effect is completely lost and you might as well stick to your dark socks.In other words: 'fear is the path to the dark socks'.(That's the last Yoda joke, promise.)
Where do you come down on the patterned sock debate? Statement sock convert or black-sock-only purist? Let us know in the comments or on social media.